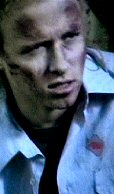 Imagine this:
Your boat sinks in a terrible storm and you strand on a remote tropical island – far off any trace of civilization. The jungle is haunted by a monster waiting to eat your guts and all you've got on your side is a pocket knife and your naked impulse to survive...
This is David's fate in
Dark Moon – the Remake
.
Only it is no boat that's sinking, but a fatal spaceship crash and not a remote island but an uncharted jungle-moon in the deepest reaches of the universe!
A word from the Director: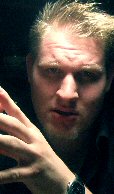 After finishing a rather successful sequel to Dark Moon in
2004, we decided to re-shoot the very first film in a brand-new style.

Telling the story of a young space pilot – used to living in a high-tech world – who strands in a totally untouched and primal environment, forced to survive there completely on his own, was what we were interested in. It's a much more tense script. We will find out what exactly happened onboard the spaceship before the crash-landing. The gaps will be filled. Alongside David we will explore the secrets of the dark moon and at the same time we'll get really close to his personal demise.

In 2005 Pre-Production began and by summer '06 we found ourselves knee-deep in production of an atmospheric sci-fi- thriller that took place in the jungle. Audiences may expect an exciting adventure that is all about suspense and mystery.
– Malte S. Derks